A TALENTED team of chocolatiers from Cadbury's in South Birmingham have unveiled their latest creation – – a fabulously festive gingerbread house.
There's plenty of Christmas cheer at Cadbury World this year, after the talented team of chocolatiers revealed their latest chocolatey creation
Expert chocolatiers Bernie Andrews, Gail Deeley and Sian Patterson took five days to bring their design to life using recycled chocolate from the attraction's Windsor Castle creation earlier this year.
The impressive gingerbread house stands at 80cm high and weighs in at 30kg – the equivalent of 667 bars of standard Cadbury Dairy Milk.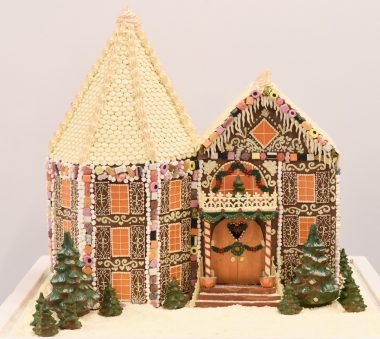 The walls of the house have been decorated with delicate white chocolate piping and adorned with Bassetts Liquorice Allsorts and marshmallows to produce a colourful brickwork design.
The windows are also hand-piped and are coated with an orange lustre to create a warm and cosy glow.
The roof is tiled with white chocolate buttons and detailed with white chocolate icicles.
The design features an intricately designed balcony and front porch which are dressed with garlands and wreaths.
It is covered with white chocolate snow and finished with a series of handmade Christmas trees, coated with a green lustre and edible glitter.
The magnificent mansion will be on display at Cadbury World's Chocolate Making zone throughout the festive season.
Elsewhere in the attraction, families can enjoy a memorable day out that's choc-full of festive fun thanks to a deer-lightful entertainment programme and a self-guided tour of Cadbury World's assortment of chocolatey zones.
This weekend, Father Christmas will take centre stage in the much-loved Santa Show and provide a gift for every little helper in attendance.
Family favourite pantomime, Jack and the Cocoa Beanstalk also makes a welcome return with seven shows per day.
Cadbury World will also host additional pantomime performances from December 27 to 30, giving visitors plenty of opportunities to join in with the chorus of boos and cheers before the year is through.
The on-site chocolatiers will also be working harder than elves in a toyshop, crafting beautiful handmade treats and gifts that are perfect to go under the tree, including everyone's favourite handmade chocolate penguin.
These will be available in The World's Biggest Cadbury Shop, alongside other popular seasonal products.
Both the pantomime and Santa Show are included in the Cadbury World admission price. For more information and a five per cent saving on tickets, visit www.cadburyworld.co.uk