RETIRED professional chef Paul James, author of travel and food blog Recipes From My Travels, writes for our paper.
I've met chef Rick Stein on a few occasions and I found him to be the most humble and genuine of people I have ever had the pleasure of meeting, in fact after this book signing and hearing of my intended plans at the time to move to Cornwall with my Son Jay, he offered me the opportunity to go to his restaurant in Padstow for an interview.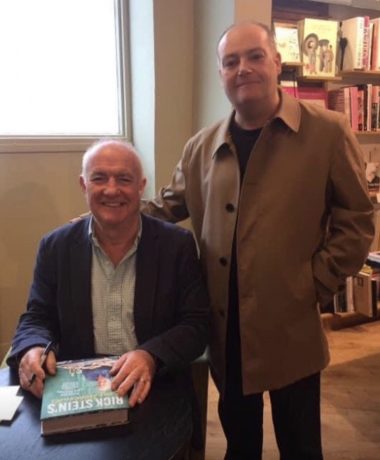 Many people who know me, know that I have such a passion and love for everything that is Cornish and obviously food is no exception.
Growing up as a young lad my regular visits to Cornwall and in particular Perranporth on the north Cornish coast were full of the usual treats – Cornish fudge, ice cream and of course the Cornish Pasty.
I must have devoured hundreds over the years, from the traditional pasty right up to the steak and stilton and many, many more in between, involving some ingredients that, well let's just say the older Cornish folk would scowl or at least say 'Ya gate bleddy tuss'.
I will leave you to research that Cornish saying.
As I grew older I became more adventurous in what food I tried and this next dish involved the scallop. In fact the first time I ever tried one was actually in Cornwall.
Now a quick little story, I won't tell you who the person was but a few years back visiting Padstow and the 'London Inn' for lunch.
We all sat down as a family and ordered.
After a lovely meal, one of the family members frowned, sighed and a little disappointingly said
'I didn't enjoy the scallops, no batter on and tasted fishy'.
It's not surprising – if you're from Birmingham or the West Midlands a 'scallop' is a battered potato fritter!
Search for 'Recipes From My Travels' on Facebook for Paul's blog and click here to check out his Recipes From My Travels ebook about his trip to New York with his son Jay.
This week – Cornish Scallops with black pudding crumb, fennel and cucumber salad, pea and pea shoots, pomegranate seeds and apple puree
Ingredients (serves two)
110g of fresh Cornish scallops (if available then cleaned and prepared by your fishmonger)
25g of black pudding
Cucumber
Fennel
small handful of frozen peas ( cooked )
Apple sauce
Juice of half a lemon
Knob of butter
Pea shoots and pomegranate seeds for decoration.
Cornish Sea salt
Method
1. Crumble the black pudding and add it to a hot dry pan until crisp.
2. Heat a medium size pan until it's smoking and drizzle in a bit of olive oil. Place your scallops gently into the pan, cook for about 2-3 minutes without shaking or moving them. Turn them gently over season with a bit of salt, lemon juice and a knob of butter.
3. Continue to baste the scallops with the butter until they are sealed beautifully, opaque in colour and cooked. Leave to drain for a moment on kitchen paper.
4. Assemble your salad firstly by cutting the fennel in half and slice thinly but CAREFULLY with a mandolin, repeat the same with the cucumber.
5. Place your scallops on top of the salad, put some of the black pudding crumb on top and decorate the dish with Pea shoots, peas, pomegranate seeds and Apple sauce purée.
6. Drizzle a little of the juices from the pan over your scallops and enjoy.
All the best and enjoy!