My father Alf, or Fred as he later became known told me these facts over some sixty-five years. He was an inner city Brummie, born in 1917 and the third of twelve children – six boys and six girls. As soon as he was able to follow in the footsteps of his two elder brothers, he eagerly joined the local Cub pack and then later the Scouts.
Throughout the 1930s, Harry Harvey – my father's Scout master, would regularly inform the boys about the topics of the day. My father told me he was made very aware that the student unions from both Oxford and Cambridge Universities had passed motions saying: 'We students will not fight for King and Country.'
It was during this time, German students bicycled across Birmingham. Mostly groups of boys, sometimes girls and obviously fully aware of the Oxbridge union pact as they loved to rub it in my father and his friends' faces, in a slightly contemptuous manner.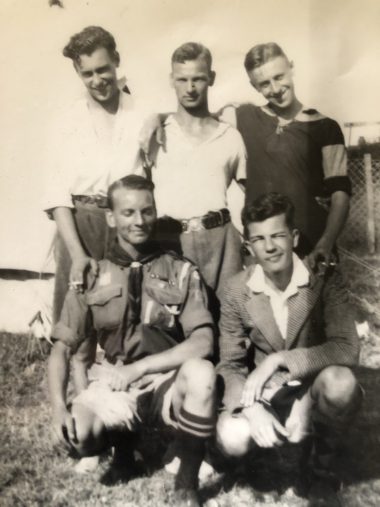 Scout master Harry would hammer it home that we British could not rely on any other country to help except the Commonwealth. It was a worrying and confusing time for all.
The Germans were better informed than the Brits. They also seemed bigger and healthier my father would recollect. Apparently they were under strict instructions to do regular exercise and could only partake in state approved sports i.e. those of the war preparation variety.
It soon became known at the start of the hostilities, the Russian Empire provided much of the steel and petroleum the Germans used to bomb Birmingham. News too arrived that many of the Europeans were on the German side and those, ostensibly who were not, had large Nazi minorities.
Hope came from the Americans. However, it came at a price. They were happy to supply us but only on a pre-payment basis and at exorbitant prices. After they took all of our money and shares in American companies, we had to pay in gold. We only finished paying for their help in 2006!
Dad joined the Royal Warwickshire Regiment early in 1940 and by the time he had been promoted to corporal, his 'post lance corporal' was non other than Enoch Powell. The controversial figure who would go on to write the infamous 'Rivers of Blood' speech.
Before Dunkirk, dad was due to embark for France to join the expeditionary force fighting the Germans.  But at the last minute, Churchill recalled the troops and my father was ordered to go to Warwick Rail Station to assist with the returning soldiers.
Contrary to the heroic tales concerning the evacuation, my father would recall, "the only group that returned as soldiers with their small-arms were the Welsh Guards.
"The rest returned a rabble!"
At this time, my dad's family lived in Trenville Avenue, off Stoney Lane in Sparkbrook. Most of it still there to this day. At the time there were about twenty houses – ten either side of my father's.
My father would often lament that out of all of the sons of those twenty households – four were to lose their sons in the war.  One was killed when HMS Hood was blown up by the Bismark. Another – my father's best friend, was killed by the Japanese whilst trying to escape a POW camp. I proudly carry his name as my middle name. Another lost his life whilst serving with the army in France and the fourth was killed fighting in North Africa in 1943. This was my father's older brother who gave me my christian name – Christopher.
One story my father would love to tell again and again was the famous BSA air raid story. During the first air raid on the BSA (a factory that most Brummies of a certain age will remember) the Bullivant family would get quite a shock.
The night started off as any other, but then the foreboding sirens were heard across Birmingham. Parents would all dutifully whisk up their children and screaming babies and head off down the garden into their Anderson shelters.
However, Grandad Bullivant had had enough. It is rumoured he said something akin to: "the Germans can go to hell. I'm staying in bed!" And he did. There was no arguing with him.
My Grandmother and five of her youngest children who were still at home went down to the shelter and waited it out. Huddled together, praying the German bombers wouldn't hit their street.
But they did.
A bomb landed on Alfred Street, just yards from their house. Their roof was blown off and Grandad found himself and his bed hurtling southwards, landing in the downstairs parlour.
The bed had a few posts broken and an odd string was sticking out, but Grandad didn't have a scratch on him. He was fine.
He did, however, resemble Casper the friendly ghost – not through shock but because the explosion had dislodged all the liquid chalk (distemper) they used to paint the walls with back then. He was covered in it from head to toe as he scrambled out of the wreckage and marched down to the bottom of the garden to see if his family were all okay in the air shelter.
My uncle Freddie – then a young boy was the first to see the 'ghost' of his father tear open the shelter door. The family all screamed and the young terrified Freddie bolted, not to be seen or heard of until the next day.
Of course it must have been quite a shock seeing my grandfather appear after the explosion looking like a ghost, but of course we never let Freddie forget it and would tease him constantly at family get-togethers, for the next 70 years.
The Americans came to Britain in 1943 and my grandfather's local pub – The Royal Oak was designated as for the black Americans only.
My family loved them straight away. My aunts would tell stories of them dancing in the streets and being "far nicer people than the white soldiers they brought with them." The young uncle Freddie who was scared of ghosts, wasn't shy in making "a mint out of them by running errands because they didn't understand pounds, shillings and pence!' However, their time in Brum was relatively short lived, they had all disappeared by the beginning of June 1944.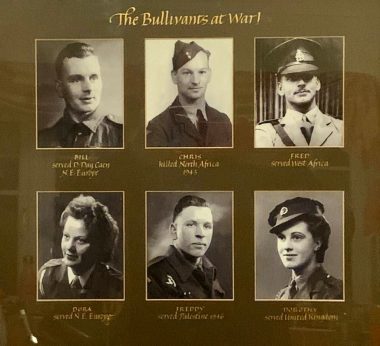 Dad returned home in early 1945 and was put in charge of Italian and German POWs in Lancashire, where he met my mom – Dorothy. The Italians were "delightful" according to dad and the Germans… "still Nazis." VE Day was celebrated by "drinks down the local and thanks that they had survived."
Dad always made the point that no country paid more or suffered longer to get rid of the scourge of Nazism. The United States exited the war with full employment, as much power as they wanted and vastly enriched. For the UK, it was the exact opposite – we were virtually bankrupt.
I don't intend for the above to be anti-anything, These are just a few of the recollections and tales my father and members of his family told me that spring to mind – hopefully to counter in some small measure, the general euphoria Friday is bound to deliver.
A huge sacrifice was made for our freedom from I truly believe, the greatest generation. May we always remember them and be eternally grateful.
Yours sincerely,
Christopher John Bullivant