A CAMPAIGN to encourage more girls across north Worcestershire to play football has earned the local School Sport Partnership – All Active Academy – has won a national award.
Tracey Freer, Strategic Lead for the Girls' FA Sports Partnership, picked up the 'Outstanding Use of Innovation to Inspire Change' award on behalf of the schools across the area, including Bromsgrove and Droitwich.
She received the accolade at the Barclays Girls' Football School Partnerships National Conference, held at the FA's national football centre, St George's Park, after impressing judges with the work local schools have been undertaking.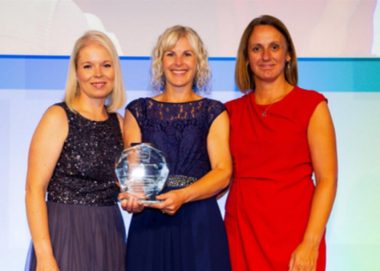 The All Active Academy, hosted by Chadsgrove School, ran a virtual girls' football week in the last school year, attracting 2,200 girls, plus 1,400 boys, from 26 schools.
It featured an introduction and question and answer session with the pupils from Chadsgrove School and Birmingham City Ladies captain and Scottish international, Christie Murray.
Each weekday had a different theme for youngsters to take part in – Move it Monday, Technique Tuesday, Workout Wednesday, Throw-in Thursday and Futsal Friday.
Westacre Middle School, led by its PE teacher Mrs Hennessey, had their Girls Football Activators film and deliver demonstration videos schools across the county watched, learned and took part in.
Catshill Middle School, led by their PE teacher Miss Butler, inspired by the programme and girls football week, delivered a fantastic girls football festival.
The FA and Youth Sport Trust both attended to film and interview the girls involved and the showcase video that has since been shared locally and nationally to empower girls and challenge the negative perceptions of girls football.
The Girls' Football Week was so successful, it will run again in July 2022 to tie in with the UEFA Women's Euros.
There will be three full day girls' football festivals targeting key stage 1 in the mornings and key stage 2 and 3 in the afternoons.
Ms Freer, Strategic Lead for the Girls FA programme locally, said: "The aim is to provide equal access to football for girls as part of their school curriculum, as an extra curriculum activity and to encourage more girls to join teams and clubs outside of school.
"It was great to be recognised for the hard work and effort we have put in to promoting football to girls and supporting the FA's vision of achieving equal access by 2024."
Mai Butler, PE teacher at Catshill Middle School, added: "As a school and member of the local School Sport Partnership, equal opportunities is high on our agenda.
"We are very impressed with the access work and were delighted to be involved and receive this prestigious award."
The impact of this national programme is already being seen locally, with lots of girls taking part and competing in our Year 3/4 district football tournament this week.
The girls from Stoke Prior First School set the competition on fire winning their group matches, semi-final and then final.