A COUNTY veteran has revealed he was almost £20,000 in debt when struggling with life after the RAF before he turned to SSAFA, the Armed Forces charity, for help.
Andrew Watkins was struggling with PTSD, long-term sickness, mental health, and debt before he reached out to the leading Worcestershire charity.
Andrew served for 12 years in the Royal Air Force before leaving the military in 1990. He started off in 37 Squadron and served in the Falklands, Cyprus, and Germany.
After he left the Forces, Andrew found himself in £19,000 worth of debt and out of work in construction. His mental health was suffering, and he had developed a hernia. He struggled to see a way out.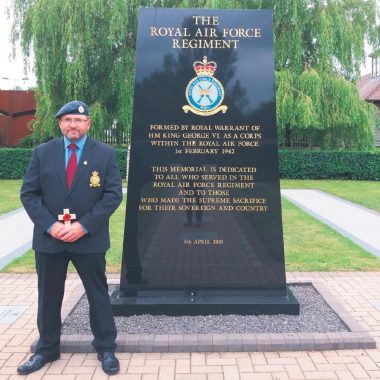 Andrew had previously contacted his local SSAFA Branch in Worcestershire four years ago when seeking work and needed support with travel and rent.
When things got worse, he was unsure if he could receive further support from the charity, but a friend helped persuade him and he got in touch with SSAFA Worcestershire.
When Andrew approached his local branch, they signposted and supported him with a debt relief order and mental health support for PTSD, which included a gym membership recommended for his mental health.
SSAFA Worcestershire was also able to help with his housing situation, providing new carpets, improving the small bathroom and toilet area, and a new fridge-freezer.
"I am now debt-free, waiting for an operation and in a much better place than I was before. I am hoping to have my operation in November and after recovery, start work again," he said.
"I basically want to say a big thank you to SSAFA for all they have done for me. I wouldn't be where I am now without them."
Tony Hacon, branch secretary SSAFA Worcestershire, said: "We are so pleased with the direction Andrew is heading on the road to recovery.
"If you are from the Armed Forces community and do need help, please do get in contact and start the conversation."
SSAFA, the Armed Forces charity, has been providing lifelong support to our Forces and their families since 1885, supporting the serving – including reservists – veterans and their families.
Call 01905 21728, e-mail worcestershire.branch@ssafa.org.uk or visit www.ssafa.org.uk/Worcestershire for more.