THE WORST Witch is described as a 'play-within-a-play' which is confusing in itself but add a school of witchery, scene-stealing cats, a bit of rock and roll and the occasional plunge into audience participation and to the adults in the audience, the confusion borders on 'haven't-got-a-clue!'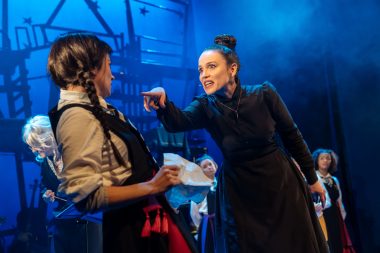 Adult confusion proved irrelevant though, as all the youngsters in the audience for whom the show is designed seemed to know exactly what was going on. There are some fabulous aerobatics, some great magic tricks, things to cheer and people to boo.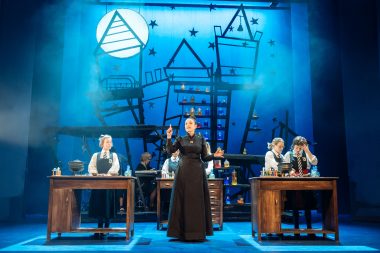 Mildred Hubble – played with equal dollops of sympathy-inducing charm and naïve annoyance by Danielle Bird – is an ordinary girl attending a school of witchery. She is laughed at, bullied and loved but comes good at the end proving she isn't the worst witch after all.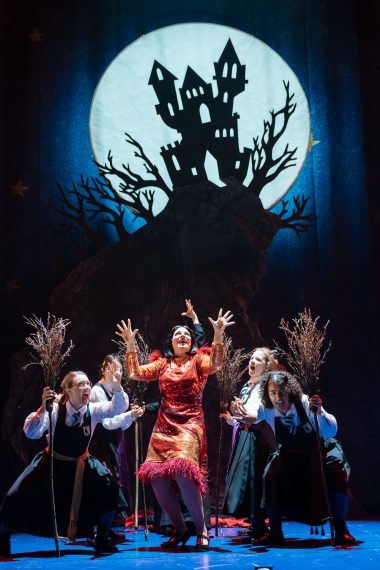 Molly-Grace Cutler makes a mean Miss Bat when not multi tasking on a variety of instruments as does Megan Leigh Mason as Miss Drill. Emama Lau is a charming Druisilla and Consuela Rolle captivates as Enid. Rosie Abraham as Ethel provides a delightfully stuck-up and spiteful nemesis to Mildred. This is a cast who all work hard to engage their young audience.
Theresa Heskins's production gets a bit lost on the cavernous stage of the Hippodrome but had enough magic to engage with it's fans.
Eleven-year-old Sienna Rose who accompanied me said she loved Mildred because 'she was always so positive'  and gave the big battle at the end between good and bad witches a big thumbs up.
This adaptation from the books by Jill Murphy runs at the Birmingham Hippodrome until Sunday, May 26.
Click here for more information.
Click here to view the trailer.
Review by Euan Rose.