Retired professional chef Paul James, author of travel and food blog Recipes From My Travels, writes for our paper.
Kassiopi in Corfu, will always have a special place in my heart, it was here that I decided to create my food and travel blog 'Recipes From My Travels' I still have many wonderful friends there.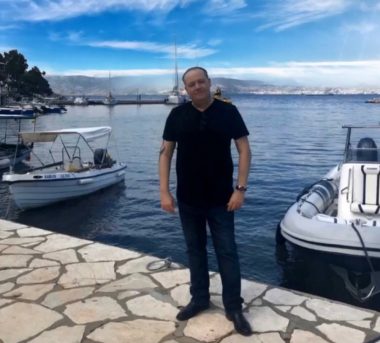 If you have ever been to Greece or the Greek islands, or plan to visit, this dish, Pork Souvlaki and Greek salad, will capture every thought or memory of such a beautiful place.
When I close my eyes the taste and smell of this dish takes me straight back to that little harbour town of Kassiopi.
The flavours of oregano, feta, lemons, beautiful olives that tingled on my tongue, the smell of the sea, hot sandy beaches and the aroma of freshly ground Greek coffee that filled the air as I walked past the tavernas and bars that were playing traditional Greek music.
That's what food does to your soul, rekindles beautiful memories that makes you want to visit time and time again.
Search for 'Recipes From My Travels' on Facebook for Paul's blog and visit amazon.co.uk to check out his Recipes From My Travels ebook about his trip to New York with his son Jay.
Proceeds go to the Cancer Centre at Birmingham's Queen Elizabeth Hospital which treated his other son Mark last year.
This week's recipe –
PORK SOUVLAKI AND GREEK SALAD.
Serves Two
For the Souvlaki
300g of pork fillet, diced
1 tbsp of dried oregano
1 tsp of smoked paprika
1 tsp of fresh rosemary
Pinch of salt and pepper
200g of Greek Yogurt.
The juice of half a Lemon
1 tsp of Olive oil ( preferably Greek )
For the Greek salad
Handful of cherry tomatoes, halved
Half a cucumber, diced
1 red onion, diced
Pitted mixed olives, halved
Cubed Greek Feta cheese
1 tsp of oregano
Squeeze of half of a lemon
Pinch of salt and pepper
METHOD
For the pork souvlaki, Put all the ingredients in a bowl with the pork and mix well, refrigerate for at least two hours but preferably overnight. This allows the yogurt, lemon and herbs to infuse the pork.
If you are using wooden skewers, make sure you soak them well before assembling your souvlaki.
Pre-Heat your oven to 180c and start threading your pork fillet on to the skewers, a good tip is to push the pork gently against each other, this allows the heat to circulate around the meat and not become dry.
Once done, place on a baking tray, pour the rest of the marinade over your skewers and cook for 12-15 mins checking and turning once.
For the Greek salad, take a bowl and add all of your ingredients, mix well and season to taste. ( always halve your pitted olives, just in case any stones remain )
Remove your Skewers from the oven and leave to rest for a few minutes while you assemble the dish.
Place the pork souvlaki onto some flatbread of your choice, next to your Greek salad and maybe try some lemon infused Greek potatoes.
All the best and enjoy.