A GROUP of 11 women from a Droitwich accounting firm have raised £2,212 for Cancer Research UK after walking almost 5million steps between them throughout March.
The Ormerod Rutter employees took on the Walk all Over Cancer Challenge for their own individual reasons and they have each overcome their own hurdles along the way,
They have all managed to keep up their motivation to complete at least 10,000 steps-per-day.
Semi-senior accountant Paige Salisbury was inspired by her 28-year-old sister-in-law's recent diagnosis of bowel cancer.
She said: "I was hoping to raise awareness of bowel cancer in young people, help raise money and to really challenge myself."
She has a 14,000-follower Instagram page which she has used to spread awareness and encourage people to get checked.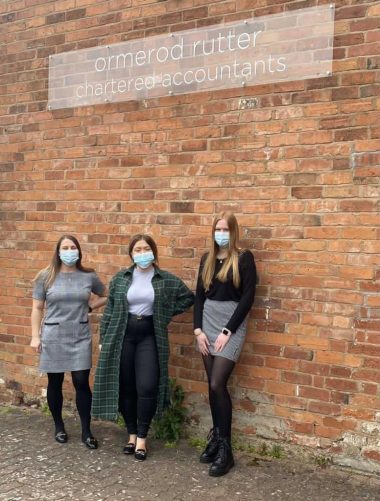 Tax trainee Nicole Cook's challenge was in memory of her grandad who lost his cancer battle in May 2020.
"It has been difficult at times as I have had revision to do and an exam to sit in the third week of March.
"Walking most lunch times really helped to free up some time in the evening for revision."
In the Bromsgrove office, accounts manager Dina O'Brien and accounts apprentice Jessica Jenkins have walked during their lunchtimes.
Jessica's nan passed away from the disease a day after her diagnosis, so she walked in her memory and hopes the combined effort will raise awareness.
Digital marketing executive Eliza Bradley who is also taking part in the challenge has kept women motivated by sending out a running tally and leader board every week so everyone could keep track of how far they had walked and how much money they had raised.
Tax senior Tamsin Harvey added: "I used to walk a lot when I was younger – we had walking holidays and would go up Snowdon or walk around the Lake District, but things change overtime and working behind a desk can have an impact on fitness.
"This challenge has inspired me to push myself to keep going further."
Tamsin walked from Bromsgrove to Worcester in one day, covering 15 miles to get her steps in.
She has since set her sights on taking part in the 97-mile 'West Highland Way' walk in Scotland as her next challenge.
The line-up which successfully completed the challenge were Chloe Cull, Dina O'Brien, Eliza Bradley, Hannah Mortimer, Jessica Jenkins, Jo Purser, Kath Hoult, Laura Hardiman, Nicole Cook, Paige Salisbury and Tamsin Harvey.
Partner Julian Dyer thanked everyone for their efforts, adding they were a credit to the firm.
Visit fundraise.cancerresearchuk.org/team/ormerod-rutter to boost the women's coffers further.