FORMER pupils of RGS Dodderhill have performed a powerful song 'For the Fallen' ahead of this year's Remembrance Sunday commemorations.
The inspirational classical piece 'We Will Remember Them' was composed by current head of music Caroline Vinson and recorded virtually by the RGS Dodderhill Alumnae Ladies choir.
The lyrics are inspired by the poem 'For the Fallen' by Laurence Binyon, which was first published in September 1914 and the words are used in Remembrance services.
'They shall grow not old, as we that are left grow old: 
'Age shall not weary them, nor the years condemn.
'At the going down of the sun and in the morning
'We will remember them.'
Caroline said: "The words are incredibly powerful and sum up the sorrow and reflection that we feel and participate in annually at our Remembrance services.
"I felt, in this hour of uncertainty with the pandemic, that a virtual performance of this song would be most suitable, and perhaps provide some comfort for our community."
Due to Covid-19 restrictions, the choir of around 25 ladies all recorded their vocals individually.
The piece has been set to a moving video, filmed, produced and edited by Caroline Vinson and soloist, Kirsty Haines.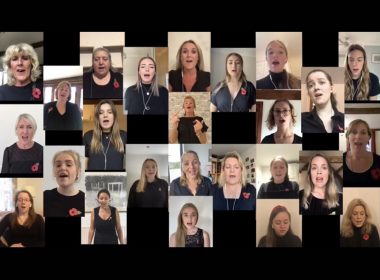 The Alumnae choir began their virtual meetings during the Lockdown earlier this year, rehearsing and sharing filmed musical performances to uplift and entertain, such as 'We'll Meet Again' as part of the 75th VE Day anniversary this May.
RGS Dodderhill has an outstanding reputation for music and its current pupils enjoy being part of that musical tradition too.
"We've based the song around a canon-like chord sequence, and it's built around a three-part female chorus.
"Recording the song in this way has been a great motivator for our choir which consists of former Dodderhill girls from the 1990s up to the present day.
"It has been a pleasure to work with everyone involved on this project," added Caroline.
The video has already had a fantastic response and can be viewed at the top of this page.